Yindjibarndi have Law, strong Law. Our Law was given to us in the Ngurra Nyujunggamu.
At Gumanha Hill, we were given our Birdarra Law when we were given our country and our Yindjibarndi language. Our Law defines our roles and responsibilities to one another and to our country and all that lives. If we do not live by our Law everything will be spoiled. Our Country will suffer if we do not follow the precepts set down in our Law. Our people will suffer if we do not follow our Law; if we are not true to our Law.
Barrimirndi
The story of Barrimirndi and the two Yirdiyarra who broke the law at Ngarngganurnha teaches us about how powerfully we may be punished if we break our sacred Birdarra Law. The story also teaches us that we must hold true to our Law, that if we cry out that the Law is too strong and hard, we will suffer for our weakness, and that we will all be held responsible for not teaching law-breakers properly.
Barrimirndi is the great sea serpent of Creation times. The Yarndinyiira (Fortescue River) was created when he came in fury to punish two young men who were being put through Birdarra Warmulu Law at Ngarngganurnha. Before their initiation, they were hungry. They found a Gurrangurran's nest and took the eggs and cooked them on a fire and ate them. This bird is sacred to Barrimirndi. When he smelled the eggs cooking, he was so filled with rage that a mighty wind rose that blew from one full moon to another as he lifted himself from the ocean and pursued the yirdiyarra. He travelled under the earth, and burst forth in many places to catch the scent of the fleeing law-breakers. He smelled them and followed them. The wind was intense. The people cried out, "Oh, the water snake is coming!"
He found the Nuju, those Yirdyarra and lifted them into the sky in a whirlwind. They were hit with sticks in the wind. Their arms were broken. They were helpless, finished. Barrimirndi opened his mighty anus, red as the sky and swallowed them as they fell.
All the people cried out and cut themselves with sharp stones because their grief was so terrible. They cried out and cursed Barrimirndi. They tried to hook the initiates out. They threw stones at Barrimirndi. Blood was everywhere. Their howling and wailing made Barrimirndi more enraged because the people were not accepting the Law. He punished the whole tribe by drowning everyone in the deep yinda that he had gouged at Ngarnggangurnha.
This is one story that is part of the teaching given by our Law.
It teaches us that we will all be responsible for the actions of the young and that the Law should not be questioned.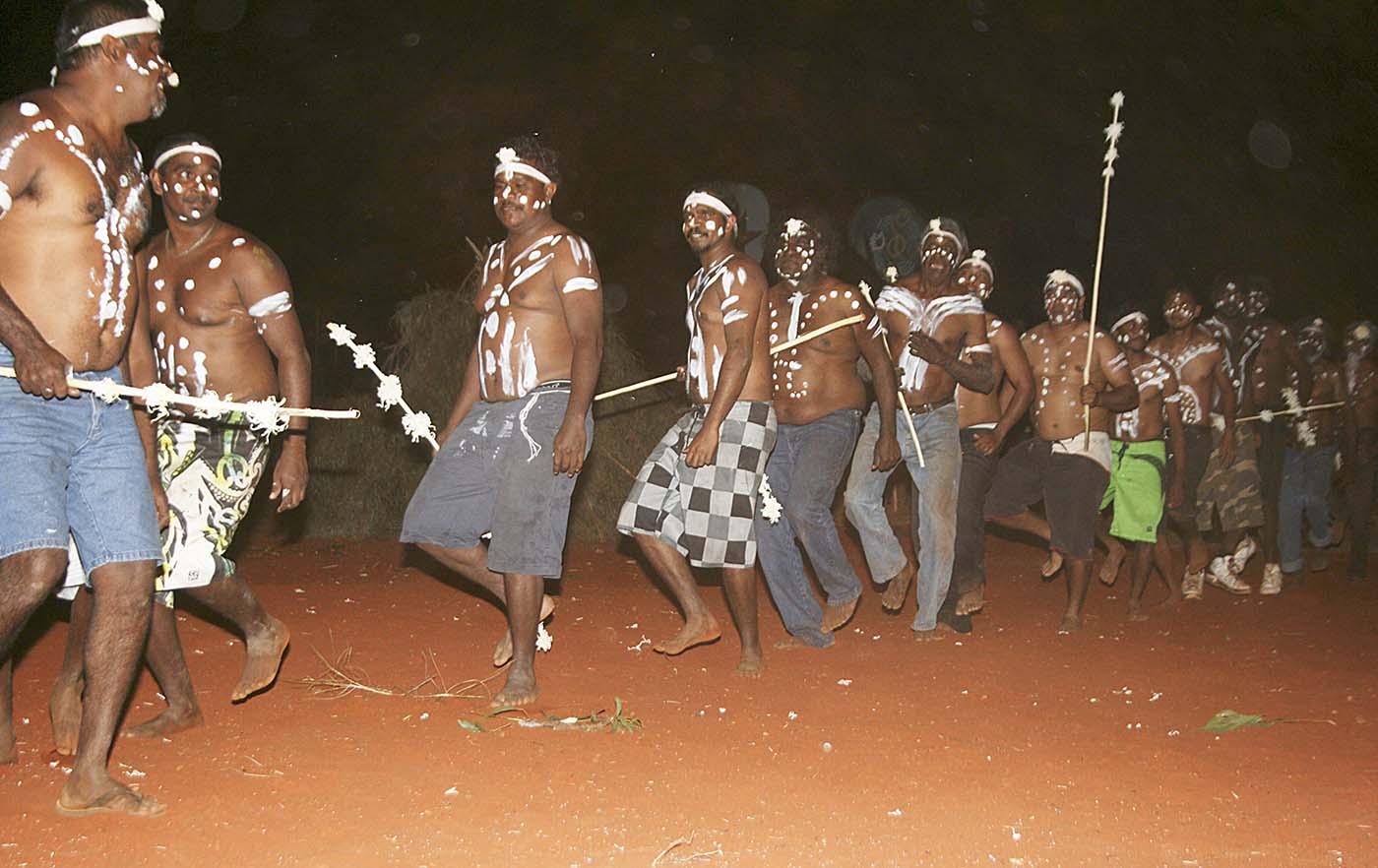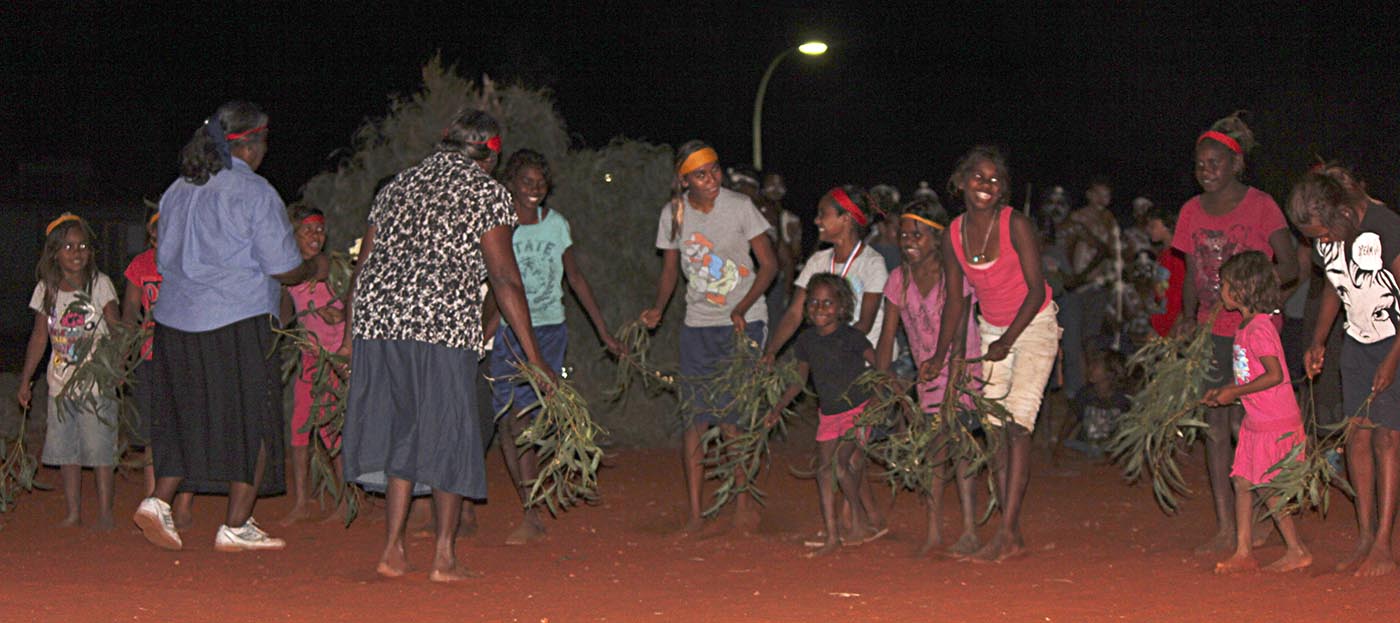 Birdarra Law
Our ancestral Birdarra Law remains central to our identity as Yindjibarndi.
While only the Yindjibarndi carry the original Birdarra Law and Burndud, all other Ngaarda Law and Law carriers in the Pilbara are closely related through our shared history and practices. We remember that the first Birdarra Law ceremony was created by the Maarga Creation Spirits to teach the Nayalyu trouble-makers the rules and precepts of right behavior, and the need for everyone to have the deep courage, and to prepare themselves to take up fully the responsibilities and the sacred knowledge and practices that are required to manage social life and our custodianship for Yindjibarndi country.
Yindjibarndi believe that our Law was given to teach us how to live a well-ordered disciplined life in which we take responsibility for ourselves, our families, our Ngurra and all creation. For all of us, our Law is carried in our language and held in our selves.
It is governed by our Galharra relationships and our commitment to our Ngurra and all living things, and underpinned by our Nyinyart values of mutual support.
Law Time
Across the Pilbara, in the hot season, Law Time brings Ngardangarli people together, supporting one another, remembering our shared heritage and history, sharing in the Birdarra ceremony given to us in the Ngurra Nyujunggamu.
Our Yindjibarndi Ngurra holds many ancient Law Grounds where for 60,000 years our families gathered in the summer time every year to put our young men through the Law. These Law Grounds where large numbers gathered and camped each year, remain deeply significant places in our world even though we no longer gather where our Old People carried out our Law.
After we were sacked from the pastoral stations on our Yindjibarndi tableland Ngurra, our Elders held Law Ceremonies on the Roebourne Reserve.
For the past 30 years, the Birdarra Law Ceremony has been held at the Woodbrook Law Ground near Roebourne.
Our Birdarra Law Ceremony occurs between October and March. It brings Pilbara Ngaardangarli (Aboriginal) families together, strengthening and reinforcing our bonds and cultural connections. Preparing for Law Time, and throughout the Law Camp and Ceremonies, Yindjibarndi prioritize our cultural responsibilities to those young men who will undertake the rites of passage into responsible manhood.
Arrangements take months to organize as Law Time at Woodbrook must be planned and coordinated with the many other Law ceremonies held across the Pilbara region.
Our Birdarra Law practices involve ritual ceremonial activities that advance Ngaardangarli youth from boyhood to manhood, taking them powerfully through steps that teach and test their courage and readiness for the responsibility of becoming a husband, father, teacher and caretaker of a family, our country and contributor our community. Birdarra is the beginning of a young man's life time of learning and life-time responsibility to play their part in the renewal and management of all life in their Ngurra according to principles of Yindjibarndi Law.
Every parent and family is responsible for preparing their sons for their Birdarra rites of passage. From boyhood, young men must be prepared for this promising of their lives to Mingkala and his creation, and to living by our Law. Preparation for, participation in, and the graduation of young men is a time of deep cultural meaning. According to their relationship with the young man, the family of the young men who will go through the Law, must prepare to take up their roles and carry out the culturally designated duties that will support him throughout his passage into manhood. During the Law Ceremonies, every person will participate according to their gender, kinship and Galharra. These roles are well-known, honoured in practice, and timeless for they have been carried out by our Yindjibarndi ancestors forever. The Burndud Song Cycle taught by the Marrga in the Ngurra Nyujunggamu is sung and danced as everyone present reaffirms their commitment to each other, their ancestral Law and their Ngurra.
For several weeks, Roebourne families camp at the Law Ground, only returning to gather supplies, or to work. For Ngaardangarli, Law Time is a time to confirm and celebrate our different but deeply related cultures together, camping under family bough shelters under the open sky where, when Law begins, we are glad to be away from town together with a hundred others, contributing to our shared cultural traditions.